Happy Tuesday!
I hope you all had a lovely and fiery Fourth of July, and I hope you do at least one thing to defy the government this week in honor of the occasion.
I had a great weekend observing all of my favorite traditions for the holiday. I went to the pool, I watched Hamilton, and I spent a good hour sobbing off and on as I wrote an article marking the day (which you can read below). All in all, it was a great weekend.
I also got to catch up with two of my favorite people in the liberty movement. My friend Jason Pye, an Atlanta native, was previously a VP at Freedomworks for many years but has now moved over to the Due Process Institute where he is using his considerable talents to advance criminal justice reform. Definitely worth a follow at @pye. We went to Little Five Points for drinks and dinner, which is the hipster/punk rock section of Atlanta. It brought back a lot of Nashville vibes for me.
And Monday, I got to catch up with my dear friend and former colleague, Braden Boucek. Braden was the VP of Litigation while I was at the Beacon Center in Tennessee, and together we teamed up to successfully sue the government on behalf of citizens who'd had their rights violated by the state. He has now gone on to run his own pro-bono, constitutional litigation group, the Southeastern Legal Foundation. You can't follow Braden because he might be the only person more obsessed with the 4th Amendment than me and Edward Snowden. You won't catch him online, but you can follow the work of his organization, which I think my subscribers would enjoy.
Without further ado, let's jump in to the week's material!
xoxo,
-H
ANNOUNCEMENTS
Don't forget, this Clubhouse event is tonight! Only subscribers, like you, will get to come "on stage" and ask questions.
Remember you need to register here:
https://www.clubhouse.com/join/based-with-hannah-cox/OylkgH3o/P0O7Rv69
NEWS YOU NEED
From me…
While I'm one of the more vocal critics of our government around, I hold deeply patriotic views – views that have grown increasingly conflicted as I've aged and become aware of all the harm our government perpetrates against people. I've worked long and hard to disentangle those feelings and make sense of it all. And in recent years, I've taken to writing about those views and where I've landed on the Fourth of July. I hope you enjoy this piece.
As you know, I've done a lot of work around violence, trauma, and mental health. In this piece, I explain how the government's COVID policies impacted mental health, created trauma, and probably led to the spike in violence we're now experiencing. You can read it here.
I joined my friends at The Atlas Network for an episode of their podcast. In it, we discuss a lot of meta content, like how I came up with BASED, my strategy for messaging my views, and how I handle the negative side effects of a social media following. You can listen here.
I also joined my friend Brian Nichols for an episode of his show to discuss my new role with FEE, our strategy with the Hazlitt Project, and my new life in Atlanta.
I've got some events and work travel coming up! (finally). I've missed being a road warrior over the past year plus of pandemic policy.
First up, I will be in DC on July 17th to speak at the National Review Institute's William F. Buckley Jr. Communicators conference for students. I'll be joined by my colleague, Brad Polumbo, as we address reporting on sensitive issues.
Next up is FreedomFest in South Dakota from July 21-25! I'll be on four panels and hosting one workshop, so be sure to come by at least one of them if you are attending and say hello!
Lastly, I'll be at Young Americans for Liberty's national conference, Revolution 2021 in Orlando on August 5-7. My panel is the Friday morning of the conference.
Hope to see some of you at these events!
From others…
ENTERTAINMENT
I just found out this book is being made into a movie and it brought it back to memory. It's been around for a few years and enjoyed a good bit of time on many bestsellers lists. It's a lovely book, filled with beautiful descriptions of nature and rich characters. It's a bit slow in the beginning, but really revs up in the middle and turns into a bit of a murder mystery. Definitely check it out if you haven't yet.
HEALTH
I've recently made the executive decision to go on Accutane, which is something I've been avoiding for years.
If you aren't familiar, Accutane is probably the most powerful and effective acne drug on the market. So why avoid it? Well, it has pretty severe side effects.
Like I've shared before, I have terrible skin. And I've struggled with acne off and on since I was a young teenager – which is so annoying because I distinctly remember being told I would not have to deal with this as an adult.
I've done practically everything to treat it. Seriously, ask me about a treatment, I've probably tried it. And I've had varying success. Topical creams are trash and a waste of money in my opinion. Face washes with salicylic acid tend to do a good job of preventing acne but dry your skin out and strip it of essential oils. Spa treatments like chemical peels, extractions, and facials can all help. And antibiotic drugs like doxycycline work well, but it's not good for you to be on an antibiotic long-term.
Ultimately, I'm just tired of jumping through so many hoops and it constantly being an issue. As I've increased the amount I'm on camera pretty drastically, it's also become a more pressing problem for me.
And lastly, since the pandemic started (and likely in large part due to masks) I've developed cystic acne for the first time in my life. This is a particularly painful kind of acne that not only is quite noticeable, but also lasts a long time, cannot be extracted, and often leaves scarring,
So, I'm pulling the trigger. It's a pretty lengthy process as the medication is highly regulated. I had to go to a dermatologist, take a pregnancy test, take an online course on how to not get pregnant (lol), sign a bunch of papers promising not to get pregnant, take a sex quiz, get labwork done, and then go back to the dermatologist for a second pregnancy test before the prescription could be ordered. Yes, really.
I now will take it twice a day, likely for about six months. And for most people, this is the end of their experience with acne.
But, it can be a rough road. A lot of people experience severely dry skin, even causing flaking lips and other painful conditions like eczema. Others have mental health side effects like depression, anxiety, and suicidal thoughts. I already live with some of that, which is a big reason I've avoided the medicine for so long,
But, I'm going to keep a mental health journal, check in with my doctor regularly, and have put those around me on guard to help me watch for symptoms or mood changes. So, I'm taking the plunge and I will keep you posted.
I don't advocate everyone making this choice, but if you too have had a long experience with acne, it might be worth considering.
RECIPES
I love naan, and Indian food in general. But never have I ever come across a gluten-free naan, much less a Keto one. So I went looking and look what I found!
3/4 cup arrowroot starch
3 tablespoon coconut flour
1/4 teaspoon salt
1 egg
1 cup full fat coconut milk
2 cloves garlic, finely chopped
Mix the ingredients and allow them to sit in a bowl for 5-10 minutes
Heat a skillet with a bit of oil in it, then spoon about 1/3 cup of batter into the pan and cook on each side for 2-3 minutes
Sprinkle with fresh or roasted garlic and drizzle with olive oil; serve warm
So easy!
BEHIND THE SCENES
We are hard at work preparing for the launch of my new show at FEE and I am so excited!
The show will be called Rigged. We're still debating whether it will be weekly or biweekly, and we're doing some test runs to see what my writing capacity and the production team's filming and editing capacity looks like. We're also working on the branding – which includes the look of the set, the style of my wardrobe, the type of camera shot and background, and the logo and promotional materials.
I'm writing test scripts to that end and this past Thursday we had our first test shoot, which was a very long but extremely fun day.
Here I am in the green room. I have to bring so much stuff with me to these shoots for various wardrobe changes, hair, and makeup, It's a lot to think of and I usually forget at least one thing. This week it was jewelry.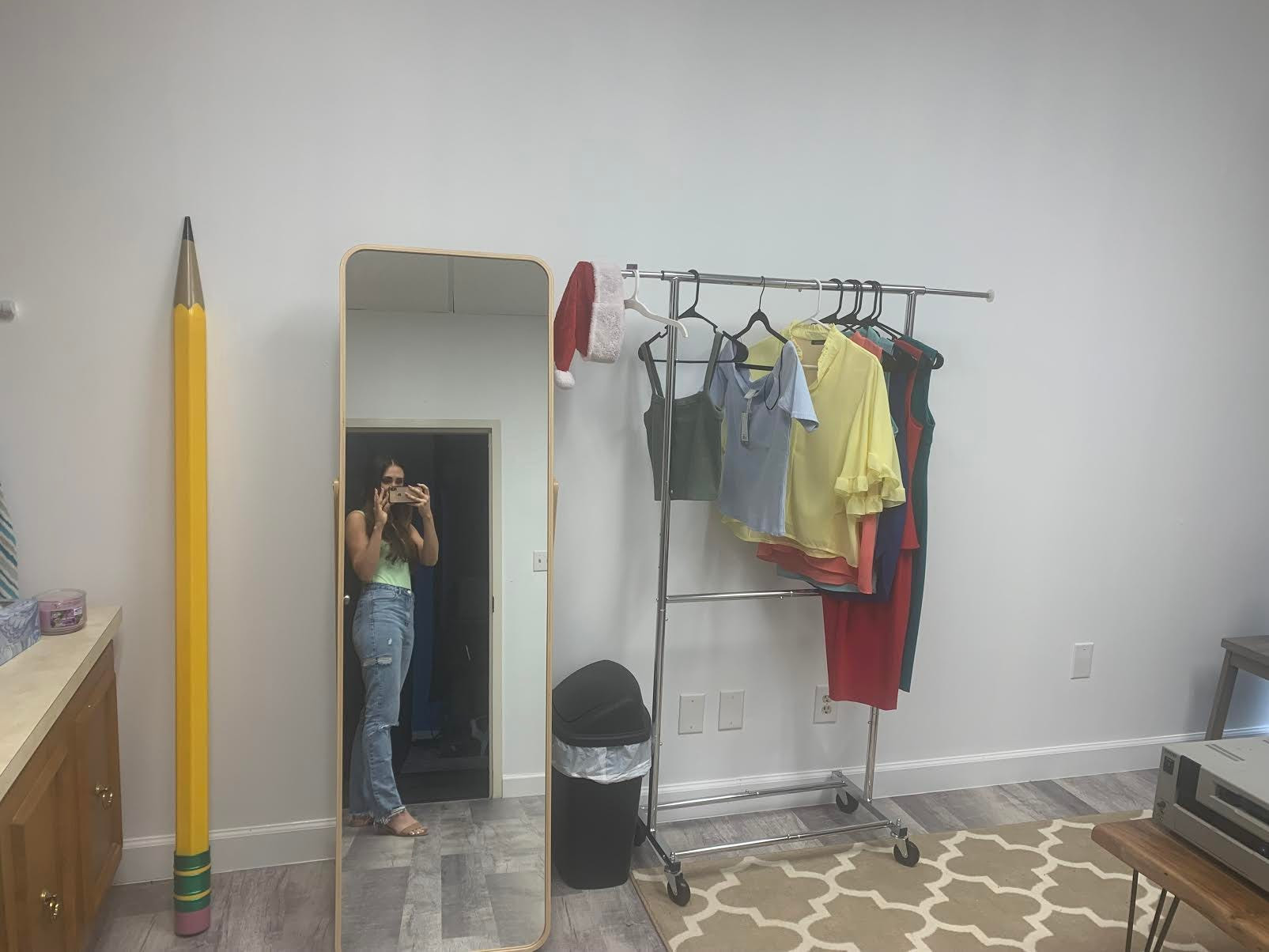 I love the nod to i, Pencil in our studio.
We went through a lot of chair and table configurations for the set. I think we actually ended up liking the take where I'm standing the best. But this picture made me laugh because it looks like the yellow chair is on trial, which it kind of was.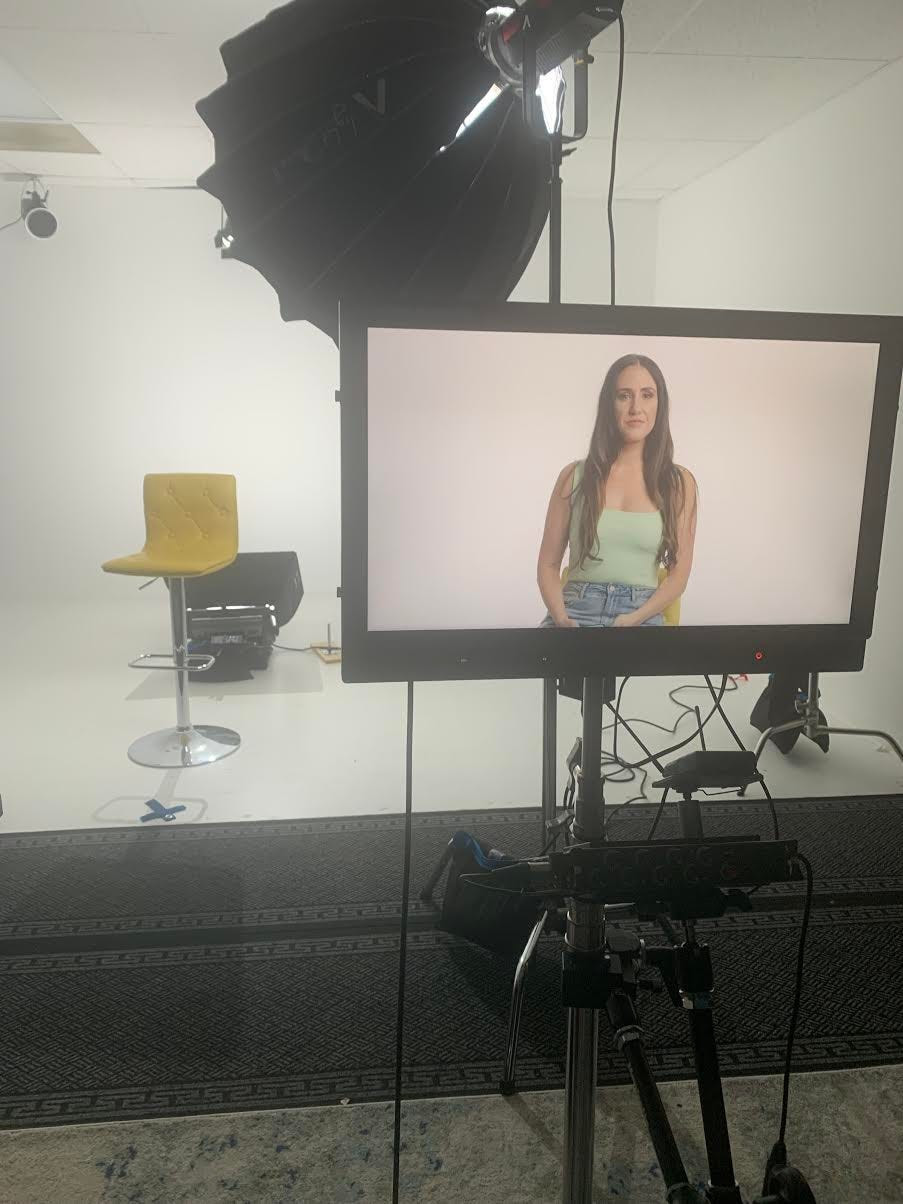 I didn't like the look of this frame. It was really hard to sit up as straight as you need to on camera (it's SO hard to not look like you're slumping on screen). And the shot hit right on my stomach. I constantly complain about the way women's clothing bunches right there. It makes you look fat even when you aren't. It's basically impossible to look flattering seated unless you have a very well tailored outfit. So I nixed this angle pretty quickly.
For the next take we built this table to serve as a sort of desk, which was better.
All in all, it is still a work in progress. But it's coming along nicely. And having been on my own with this kind of thing for the majority of my career, I can't tell you how amazing it is to have a talented crew working on this project with me. It makes a huge difference and I can't wait to show you the final product.
Not only is our production team wildly talented, they're also just great dudes I love spending time with. When I left the studio after a long day I found my car battery was dead. I didn't leave my lights on, it had just gone out. Pavel, Paul, and Jason were on it. They had me up and running in no time and sent me off to the Autozone for a new battery, where I also encountered some lovely and very helpful dudes that got it changed over.
One thing I have to say about Atlanta is this: it is the first place I've lived in the south that lives up to the southern hospitality stereotype. I've lived in AL, SC, KY, and TN, and always found southerners to be a bit nosy, but not actually all that friendly (lol). But here, everyone is genuinely so nice, helpful, and welcoming. I'm constantly blown away by it. I think it's making ME nicer in response.