First, thanks for subscribing! If you've been following me for a while, you know my work and reach has greatly expanded over the past two years. This will be a place for me to streamline information I'm regularly asked for, continue to connect with my allies, and hopefully give you the content you need to preach liberty.
I'll also be throwing in life hacks: recipes, travel tips, behind the scenes information, a little gossip, and tidbits to help you live a better life. Because I want you healthy, wealthy, and wise. So let's get started!
Politics and News
Television
Let's be clear. When we talk about the "private" healthcare market in this country, we aren't talking about a free market. Our healthcare companies are entirely tied up with red tape, regulation, and cronyism. Socialized medicine would only offer more of the same. Watch me make this point on RT's "Watch the Hawks" here and share the clip on social media! We have to reclaim the message.
Articles
Did Kamala Harris block the testing of DNA evidence in the case of a potentially innocent death row inmate? Yes. Is this an outrage? Yes. Is it an outlier? Hahahaha, no.
I see judges, prosecutors, attorney generals, and other government actors do the same thing in cases across this nation every year. You have no idea how hard it is to get new DNA evidence tested or prove a wrongful conviction. Read my latest at Newsmax digging into this problem, and spread the word.
Interviews
I joined "The Concerned Citizens" podcast this week to discuss my views on government, parties, and policies. Stream this free-form interview here!
News You Should Know About
Tennessee is blocking DNA evidence testing in a case scheduled for execution
KY authorities are trying to cover their tracks in the Breonna Taylor case, and failing
This, what we're living under. It's not capitalism.
Viral Social Media Posts & Memes
[Share!]
FOODIE SECTION!
If you've merely followed my posts and not my stories, you may be unaware of my complete obsession with food (and wine). I love trying new things, I love to indulge, and I love knowing all the great restaurants.
BUT. I also love to not be fat. Due to that, and a very unfortunate (and real!) gluten allergy, I put a lot of effort into understanding nutrition, finding and cooking healthy recipes, and exercise – but that's for another section.
Last year I started Keto. I like the diet as a whole and will talk more about it in future posts, but I did not find it sustainable long-term due to my travel schedule (and the aforementioned love of wine). Most weeks, I now stick to a low-carb diet with a moderate intake of protein and fat. Here are this week's recipes!
Keto Red LOBSTAH Biscuits
It sounds too good to be true, I know. But these bad boys are only 3 carbs each and very easy to make. You pretty much just dump the ingredients in a bowl, mix, spoon out, and bake. If anything you can add a little extra garlic or salt to taste. Recipe here.
Keto Sausage Balls
Sausage balls are one of my very favorite breakfast items, and they're extremely on the "you can't eat that" list for me, this recipe is a great substitute. I actually think they taste less floury and more flavorful than usual. The only downside to this recipe is you have to get your hands pretty dirty to mix everything up. Roll up your sleeves!
Lifestyle
I had a lot of requests for this outfit…
…and I've been evasive in answering. I ordered this through an instagram add and paid no attention to the supplier. It apparently came from China and took over a month to arrive, so I've had a hard time finding it. I've tracked it down to this supplier, but due to the massive amount of clothes they offer I haven't had time to fully find it. It's on here somewhere, and they have lot of other great items as well. Cheap, and the material was really nice. Good luck! 🙂
Like many people, I have been suffering from Mask-ne since COVID started. I've also been displaced due to the pandemic and not near my regular dermatologist. Fortunately, I found this awesome online dermatology service! It's so simple and affordable. You create an account and pay per visit (less or equal to most co-pays for a specialist). You'll upload images of your skin and have a one-on-one consultation with a doctor who will then develop a customized plan for you and prescribe your meds. You can then have these mailed directly to your house!
They prescribed me doxycycline twice a day for the time-being. I usually avoid being on medications, but the mask was really doing a number on me and I was pretty desperate. I also have rosacea. The medicine has cleared me up right away and I'm really happy with the plan they crafted for me. They also have me using a topical cream in the evenings (azelaic acid).
PS: I also was able to get my prescription retinol from them, which if you're over 25 you should be using at night!
Travel
Pre-coronavirus, I was on the road at least every other week. I'm really missing the road, and still trying to travel here and there while taking precautions due to those with pre-existing conditions in my life.
Last week, I visited my dear friend, Ameshia Cross, in Washington D.C. and spent the week in the Swamp.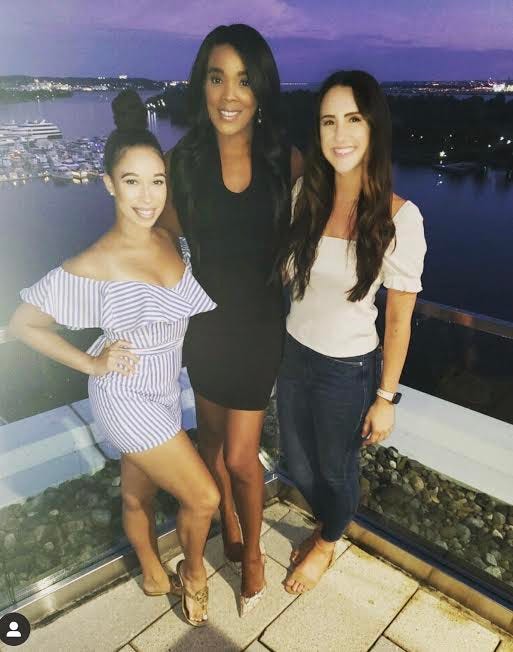 Flying was FINE! I'm a loyal Southwest customer and they always provide exemplary customer service. The airports were pretty empty (I went through Greenville, Atlanta, and Washington-Reagan). Most had one sit-down restaurant open, a few fast food options, and a few news stands. I did have to wear a mask from door to door (unless I was eating/drinking), and the plane kept all middle seats open. On most legs I was the only person in my row.
DC was also fine. I saw no riots, no looting, no destruction in the areas I visited, and I covered a lot of ground – Capitol Square, Navy Yard, the Wharf, Georgetown, Pentagon Mall, and Arlington. The city overall felt empty and muted, but I've grown accustomed to that – it's true everywhere I go. Deafening silence has been the sound of summer.
The Wharf is one of my favorite spots in the city. It's a new(er) waterfront strip with lots of bars, restaurants, and venues. This time I tried brunch at La Vie, and just look at this place! It was meant for me. Stunning views of the water, elegant aesthetic, and a great menu. This will be a must-go moving forward.
Not only did they have a great wine list (along with brunch cocktails and bottomless mimosas), they also had a menu option I've never seen before. All you can order brunch!! Not a buffet. A la carte. For $45 you can order as many plates as your heart desires during a two hour period. I think I made it through a solid 12. Reservations are a must!
That's all for this week! Let me know your thoughts, questions, and future requests in the comments!
xo
-H