Good Morning!
Can you believe it's already August? Throughout the pandemic, I've marveled at how fast time has gone by. One might think it would drag, but instead, it just zips by.
We're back under mask mandates here in Atlanta. The mayor issued an executive order that extends to private businesses, which is unconstitutional, but we'll see if anyone actually fights back. I've been pretty dismayed (pissed, annoyed, shocked) at how few of the pro-bono liberty think tanks have sued over this crap.
In the meantime, my yoga studio is under the impression we'll be doing 60 minutes of 90 degree sculpt yoga in a mask. (Not a chance) So, I'm back to home workouts, which I at least have a lot of angry energy to pour into.
Winter is coming, and I think it's going to be a long one if we don't fight back. I'm ready for some peaceful civil disobedience, so if anyone wants to chain themselves to the CDC with me let me know.
Anyways, on to happier topics.
xoxo,
-H
NEWS YOU NEED
From me…
Hi, it's me with yet another infuriating story about police corruption and qualified immunity preventing actual justice. You can read it here.
I'm speaking at Revolution 2021 this week (formerly known as YALCON). We'll be in Orlando and I'll be speaking on criminal justice reform Friday morning. Hope to see you there – but the event is unfortunately sold out so if you don't have your tickets yet start planning for next year!
From others…
ENTERTAINMENT
Worth a Follow…
This is a new section I'm adding underneath entertainment. I'm constantly asked where I get my news and it's a hard question to answer because I don't have a go to spot. I follow a lot of smart and interesting individuals, listen to an assortment of podcasts, and read a ton. But I don't consume much of the typical politico media beat (talk radio, TV news, or YouTube videos).
I think this is probably a good thing. I'm not interested in others telling me how to think. I don't want red meat. And I'm not looking for someone to rile me up. I just want the facts or to hear from people that make me think in a different light.
So first up in that category is Amanda Knox.
You may not know her, it's been a while since her case was in the news. But Amanda was falsely accused of killing her roommate while studying abroad in Italy. It took years for her to earn her freedom and to this day there are still people who believe she is guilty (she isn't) because of the way the media portrayed her.
Knox has taken some hard knocks, but in recent years she has increasingly emerged as an enlightening advocate. She not only discusses the failures of the justice system – both here and abroad – but the psychology and sociology that enable these flaws. She also goes after the media's roles in these scenarios and her ongoing battle to have a right to her own story.
I've learned a lot by following her on Twitter and just recently subscribed to her podcast Labyrinths.
If you are unfamiliar with her case, you might consider her book "Waiting to Be Heard" or the Netflix documentary, Amanda Knox.
HEALTH
Ok. I really dislike discussing anything about the human body. But I'm going to suck it up for this section because everyone needs to know about Squatty Pottys.
What is a Squatty Potty? Put simply, it helps you put your body in the correct anatomical position to use the restroom.
I found out a few years ago that one reason so many people struggle with constipation and other bowel issues is due to the problematic design of our toilets.
Throughout history, humans have squatted to use the toilet, which is the correct position to pass waste. Because our toilets are designed in such a way that people sit straight up with their knees at a 90-degree angle, it leads many to have a hard time…doing their business.
A squatty potty adjusts this position. It's only $35 and well worth it.
RECIPES
After traveling for a few weeks my cooking is back with a vengeance. I forgot how hard it is to be healthy on the road, so now I'm trying to make up for it. Here are some of my favorites from the week.
Ham and Cheese Keto Biscuits
My mom actually stopped through town last Sunday night and whipped these up for me, which was really a godsend because I was so tired and overwhelmed after FreedomFest I could barely even think about cooking.
3 ounces cream cheese, SOFTENED
1 cup shredded cheddar cheese
2 eggs
2 cups almond flour
1 teaspoon baking powder
1/4 teaspoon salt
1/4 cup heavy cream (scrape the measuring cup out since it is thick, make sure you get ALL of the liquid)
1 tablespoon melted butter
1 3/4 cup chopped ham
TOPPING
1 tablespoons butter, melted
Preheat the oven to 350 degrees.
In a mixing bowl combine the softened cream cheese, cheddar cheese and eggs. Stir until cream cheese is smooth with no clumps.
Add almond flour, baking powder, salt, heavy cream and melted butter.
Stir until combined.
Fold in the chopped ham. Do not overmix or biscuits will be tough.
Chill the dough 10-15 minutes.
Using a small cookie or ice cream scoop spoon the biscuits out onto a greased or lined baking sheet. Lightly press the dough down.
Bake 13-15 minutes until golden. Brush with melted butter.
Keto Blueberry Muffins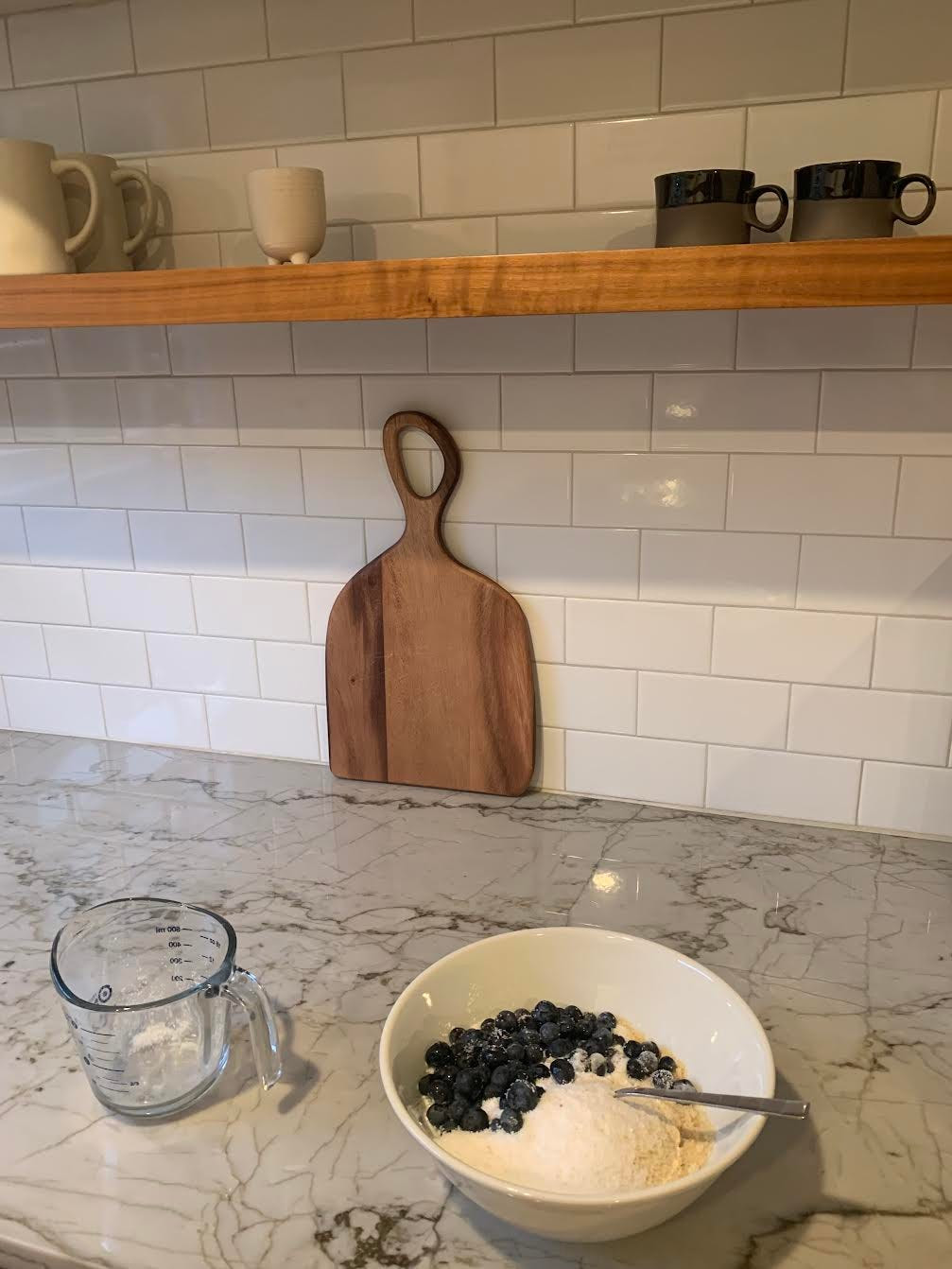 I love having this kind of thing on hand for a quick breakfast or for when I'm craving something sweet.
2 1/2 c. almond flour
1/3 c. keto-friendly sugar (such as Swerve)
1 1/2 tsp. baking powder
1/2 tsp. baking soda
1/2 tsp. kosher salt
1/3 c. melted butter
1/3 c. unsweetened almond milk
3 large eggs
1 tsp. pure vanilla extract
2/3 c. fresh blueberries
Zest of 1/2 lemon (optional)
Preheat oven to 350° and line a 12-cup muffin pan with cupcake liners.
In a large bowl, whisk to combine almond flour, Swerve, baking powder, baking soda, and salt. Whisk in melted butter, almond milk, eggs, and vanilla until just combined.
Gently fold blueberries and lemon zest (if using) until evenly distributed. Scoop equal amounts of batter into each cupcake liner and bake until slightly golden and a toothpick inserted into the center of a muffin comes out clean, 23 minutes. Let cool slightly before serving.
Easy, Fast Steak
I've been trying to get more meat and veggies in my diet, but I don't have a grill or a ton of time to prep the meat. This Trader Joe's steak comes ready to heat and pre-sliced. It looks like this:
It's in the refrigerated section. You just bake it for 18 minutes and it comes out perfect! This is an easy thing to make as a main course, or to use on sandwiches or salads for the next couple of days. I get about 4-5 meals out of it.
LIFE HACKS
I'm not much of a TV watcher, and I only own a small 40" set that I haven't turned on since I was in Nashville.
But, in designing my new living room I felt I needed to purchase a larger one for the sake of hosting. The thing is, though, TVs are just really ugly. So at first, I looked into ways to disguise one should I buy it. Like this:
I still wasn't sold.
As I began to look into them, I realized it would be just as cheap to buy a projector and skip the TV. So that's what I'm doing. I'll keep the wall my couch faces blank above the sideboard and install a small shelf behind the couch. That way the room will look beautiful and designed by day but will have a very big screen on demand if I want to watch something.
This is really only a good option if you've cut the cord. But for people like me who've long since been on the streaming everything train, it's a perfect option.
My recommendation is the Nebula by Anker.
It has a great price point of only $299. I used this brand at my studio in NYC and it was great. The projection takes up an entire wall, the sound quality is booming, and the charge lasts about 4 hours. You can stream all major platforms on the device, and you control it with an app on your phone. Its design makes it super discreet and easy to blend in on a shelf as well.
It will be so great when (cough, if) my back-ordered couch arrives.