Good Morning!
I'm actually writing this week's newsletter on Sunday…I think. The week has been a blur, I've had a loose grasp on the time and day of the week since arriving in Rapid City.
We lost two hours upon arrival. Most of South Dakota is on Central time, but Rapid City is on Mountain. On top of that, FreedomFest has been a logistical nightmare. The convention center was only a mile or two from most of the hotels recommended, but the shuttle service FF provided ran so slowly my commute in each day was about 30-40 minutes. Yes, really. So no going back to the hotel for power naps or decompression.
Hannah, ever heard of Lyft? Why didn't you just call a car?
Yes, I have heard of Lyft. But it appears most of South Dakota has not as obtaining one was like winning the lottery.
South Dakota might be open for business (as they've spent millions advertising) but it does not have the capacity to handle that business – especially a 2000+ person plus convention. Getting good food, water bottles, and coffee was also a feat. The few restaurants within walking distance of the convention center were running out of supplies and the premises only offered food trucks and a tiny nachos stand at random hours.
The things I do for liberty you guys.
When I arrived at the airport this morning the Delta agent informed me they'd oversold my flight (Southwest would NEVER) and asked if I might be willing to volunteer for another flight. I shook my head so adamantly I lost an Airpod. Get me out of here.
Thankfully they've already announced Freedomfest will be back in Vegas next year, and I'm glad to hear it because the conference itself was amazing. I'm bummed I was working so much and did not get to catch the vast majority of panels. But it was a who's who line-up of liberty leaders and there were countless great debates. I heard Scott Horton did a particularly great job of dismantling our foreign policy. It seems many of the events were recorded and might be available for pay-per-view soon. I'm still trying to figure that out for sure, but I'll keep you posted.
On top of that, I got to catch up with dozens of my friends, counterparts, and colleagues. I truly don't think I've ever been somewhere where I liked so many people at once. It was wonderful. A lot of us haven't seen one another in over a year, some people I'd never met in person, and others were close friends that I'll still take any chance I can to hangout with. There were lots of great receptions and dinners in the evenings too. So while I'm exhausted (and never want to return to SD), I had an amazing time.
My panels also went very well. And I got to film a new documentary on lockdowns that we're hoping will be picked up by a major platform.
My criminal justice panel with Bob Barr, Sheriff Mack, and Catherine Bernard…
My panel on masking, lockdowns, and their impacts on children with Kerry McDonald and Brad Polumbo…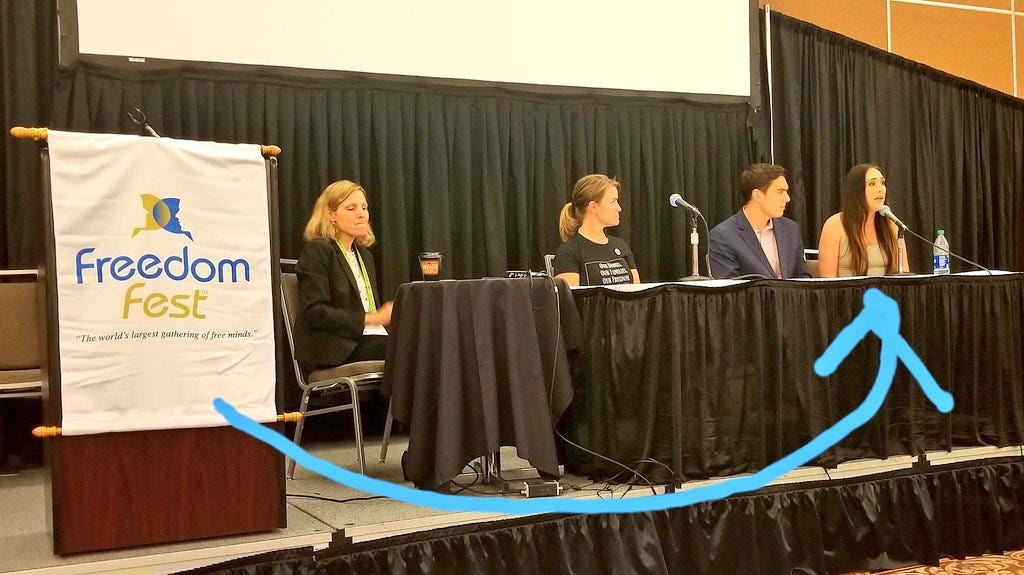 My zoomers vs. boomers debate with Brad, Stephen Kent, and Larry Sharpe..
I had two more panels, one on the death penalty and one on the Biden Admin's war on small business where I went after the PRO Act. But I haven't gotten pics of those back yet.
I also got to meet a bunch of my fellow liberty podcasters and advocates. From L to R, Martha Bueno, Eliza Bleu, Clint Russell (Liberty Lockdown), me, Jess Mears, Spike Cohen, Reed Coverdale, Jeremy Todd, and Scott Horton…
FEE hosted the opening reception to celebrate our 75th Anniversary. This is me with our Executive VP Richard Lawrence and his husband Colin…
Saw my buddy Austin Petersen…
And got to meet his lovely fiance, Steffi…
Pictured here with some of my favorite people post my death penalty workshop.
To my left is Brett Cooper, one of our Hazlitt Fellows at FEE and an amazing up-and-coming writer and commentator. To my right are Mike Hartley and Hannah Kubbins, who are leading the death penalty repeal campaign in Ohio. Don't tell the other chapters I used to oversee in my former role with CCATDP, but the Ohio coalition was my favorite and these two are dear friends I haven't been able to see since February of 2020. So it was really good having them there this week.
And that's a wrap!
It's now 5:04 am here and I'm about to bang down this flight gate. Let's jump into the rest of the week!
xoxo,
-H
NEWS YOU NEED
From me…
The gist of this article is this. Americans have no idea how bad our refugee system is, and people that suggest Biden is somehow pro-immigrant or open borders are looney tunes. Read it here.
Democrats may never admit their gun control laws are a failure. But sometimes actions speak louder than words. Such is the case with Cuomo's latest executive order. Read it here.
Fauci can't get his own facts straight, and yet the government thinks it should decide what is and isn't misinformation. Read it here.
From others…
ENTERTAINMENT
I feel the need to place a trigger warning here as my subject matter is a bit dark today, at least for normies. 😉
And I feel weird placing this in the entertainment section as I'd normally place it under health. But, it pertains to an article and a piece of art, so I think entertainment actually is the right place to file it.
I've been thinking about mental health a lot this week because, honestly, mine at the conference wasn't great. I've always been extremely extroverted and enthused by events like this one in the past. But this week left me feeling drained and ready to disappear into my house for a week or two.
I, and many others I spoke to at the event, experienced a lot of social anxiety throughout the week. I've always had anxiety, but it's never been the social kind where you criticize everything you say and want to run back to your hotel. I think COVID has had a lasting impact on many of us and readjusting to normal behavior is going to take some time.
Taking all of that into account has left me just…bummed. Life is so hard, and now we have to overcome this too. It's exhausting.
I read this article a few years ago titled, "I am not always very attached to being alive." It bowled me over. I'd never before felt like someone described my feelings on this issue before, it actually described my own thoughts better than I had been able to process them for myself.
As the author points out in the piece, we spend a lot of time talking about suicide after it has happened. We spend very little time discussing the spectrum of suicidal thoughts or ideation that come long before the actual act. And there are many people who live with suicidal ideation who will never act on it.
From the article:
But for me, and I suspect for countless others like me, the threat of suicide isn't like being carried over a waterfall — it is like living in the ocean. Not as sea creatures do, native and equipped with feathery gills to dissolve oxygen for my bloodstream, but alone, with an expanse of water at all sides. Some days are unremarkable, floating under clear skies and smooth waters; other days are tumultuous storms you don't know you'll survive, but you're always, always in the ocean.
And when you live in the ocean, treading to stay afloat, you eventually get the feeling that one day, inevitably, there will be nowhere for you to go but down.
I've become adept at treading. I know — or I suspect, or I dread — that my legs will exhaust and I will slip beneath the surface, but I don't want it to be soon. For now, I can and want to keep my head above water.
Co-signed. Every word of it. And I'm tired of it being taboo to talk about. People picture suicide as one bad, dark moment. Or they assume the person lost touch with sanity. Sometimes. But in my experience, suicidal thoughts often come from a rational response to the world around us. The person is perfectly balanced and heroically fighting their desire to just not deal with the world around them any longer.
This is a side of suicide that makes people even more uncomfortable. It's easy for it to feel far away or rare if it only touches people who are insane. It hits much closer to home if it can impact "normal" people around us. But it does.
Also from the article:
What if we acknowledged the possibility of suicidality all around us, normalized asking and checking in? If people talked about feeling suicidal — not joked, as we've all started to do online, but really talked — as much as they talked about feeling depressed or anxious, would we finally be forced to see how common it is and start creating space for these conversations? Would it be the worst thing in the world if we started talking about not wanting to be alive, and what might help keep us here?
Anyways, read the article. It's brilliantly done, brave, ground-breaking.
I've been looking for a piece of art for my house that looks like the image at the top of the article for weeks because the piece meant a lot to me and I love the imagery she used to describe living with suicidal ideation. I couldn't find it anywhere.
But finally, I stumbled upon this similar image, that I actually like even better.
If you want to order it it's available here. I'm getting a large framed print for my house.
TRAVEL
As I previously mentioned, I used to be a road warrior that is now out of practice. So the past two weekends have reminded me of some essential products and practices if you're thinking of getting back out there.
What it's like…
Flying is like 70% back to normal. Many airports are super crowded again (looking at you Atlanta) and some restaurants are open again – but not all of them. Most airports have about 50% of their establishments open. Still, you'll be able to sit down, grab a drink, and eat most places.
They are still mandating masks. And I do mean mandating. Some employees are more intense than others, but you are only allowed to take it off to eat or drink, and the particularly Karen employees are pushing people to do one bite on and off. Seriously.
Ubers and Lyfts are still patchy. If you're going to a major city you're probably ok. Anywhere else I would look up shuttles or schedule a car service (fun fact, car services are about the equivalent of an Uber Black in many cities, not as much as you might think). Prepare to also wear a mask in these cars. Uber is actually making people take pictures of themselves to prove they're wearing a mask before they'll send cars.
My Must-Haves for the Plane…
I always pack some additional layers because it's usually freezing on planes and in airports. A sweatshirt, a shawl, and a pair of socks if I'm wearing sandals are always in my bag.
Downloaded audiobooks, podcasts, Spotify Playlists, or TV shows on my phone or iPad. I try to only buy wifi on planes when I really need it to work, in which case I use my laptop. Otherwise I download entertainment to consume on the plane. It's easy to do, most audiobooks and playlists have a little button on the main page or in the drop down menu to download them. For Netflix you must have an iPad, but you can download most episodes of shows and movies.
Fully charged headphones. I like to carry two kinds. My Airpods are my favorite, but they don't have as long of a battery life and they fall off easily – which could spell disaster on a plane. So I also usually keep my Bose wireless headphones on me. These are noise cancelling and amazing for blocking out crying kids or annoying people when you travel. The price point on those is a little high (they were a gift), so if you don't feel like spending $370 on headphones check Amazon for lots of dupes.
A battery pack is my life line when I travel. It comes in handy on planes and airports, sure, but in hours long committee hearings or an all day conference it is a must. I use the Anker option and usually get 2-3 charges out of it before it itself must be recharged. There are others that pack more of a punch, but this one is only $25 and I'm not trying to power the entire convention.
A receipts slip. Keeping up with receipts on business trips is honestly an earned skillset. After many lost receipt tragedies and near misses, I've begun carrying a thin slip to put them all in as I go. Just buy a pack of paper slips from Home Depot like you would use to separate pages in a notebook and keep it in your bag. It takes up hardly any spaces and will ensure you have an easy time filing your expense report when you land.
Chapstick, Sunglasses, Hand Sanitizer, a Perfume Sample Spray, Travel Deodorant, a Small Hairbrush, Travel Toothbrush and Toothpaste, Floss, and Travel Advil. Trust me, at some point on your trip you'll be glad you have each of these in your carry-on.
Always check-in for your flight exactly 24 hours before departure, it determines your boarding priority on many airlines. Plus, you have the added benefit of then adding your boarding pass to your wallet (at least on an iPhone), so that's one less thing you need to worry about.
Never fly without your points. Go ahead and make an account on all major airlines and write down your number. It takes less than 5 minutes and those things add up. Try to stick with one airline when you can and have a back-up when it's unavailable for your route needs. I stick with Southwest and use Delta when I must. Not only do you get points that could lead to free flights, you earn status – which in my opinion is far more important. On most airlines it's how you earn your human rights. On Southwest, it means you get priority boarding, a dedicated phone line, and to skip to the front of check-in lines for bags. Having status will revolutionize your flying experience.
PS: Remember my amazing feather chandelier I ordered for my dining room? It finally arrived. And it looked like this…
W T F
I tried to return it, but the seller was a third party in China operating on Amazon. When they sent me the label they said I'd have to pay to return it. Guess how much it was going to be? $250. The light was, suspiciously, $250.
So I did what anyone would do and turned full Karen. I reported the store, I left bad reviews on every section I could find, and finally I got a hold of an Amazon customer service representative who quickly agreed Amazon would refund me and deal with the seller. For future notice, don't bother with customer service on the Amazon website, just google "Amazon customer service number" and call that. They were most helpful.
And now, I'm back on the hunt for a light fixture.