Wow, I forgot all of my holiday greetings last week.
So…
Happy (belated) Juneteenth!
And Happy (belated) Father's Day!
I hope everyone had a beautiful weekend celebrating with your loved ones.
I was able to dart home for 24 hours and spend the day with my Dad. This is the first time I've lived close enough to be able to do that kind of thing as an adult, so it was really nice….though a little stressful as I've got a busy production week over here!
So, let's jump in to updates!
xoxo,
-H
NEWS YOU MUST SEE
From me… [wpdiscuz-feedback id="y7qmo64c8r" question="Do you like the site so far?" opened="0″][/wpdiscuz-feedback]
First and foremost, I hope you're keeping an eye on the new website! Luis and I have been hard at work moving content over. You can now stream all episodes of BASED there, catch up on articles, and….most importantly…get your newsletters there.
Which brings me to my big ask. We will be (slowly) transitioning the Substack platform over to the website. I'm honoring all subscriptions made here through fruition. But if you could begin moving your memberships over as they expire here it would be super helpful. We will sunset the Substack on October 1st. So that will be the deadline to move platforms.
My website will allow me to keep a larger portion of your subscription fee, and having everything in one place will help me increase my content creation instead of being spread across multiple platforms. I think you'll get more bang for your buck over there in the long run too as there's more we can do with the channel.
In the meantime, we are transferring existing subscribers to have access to both platforms. You should have received an email asking you to set a password for the website and fill in other log-in materials for your portal!
Remember, it's www.hannahdcox.com/home
I've been on a tear over the FDA blocking Americans from potentially life-saving treatments – while also making the cost of healthcare significantly steeper – for about a decade. The latest controversy around a new Alzheimer's drug gave me an excellent opportunity to rehash these problematic policies in a new piece. You can read it here.
Affordable housing initiatives almost always miss the mark on addressing the things that would actually make housing less expensive. I detail why that is here.
If you're not currently on my crusade against civil asset forfeiture, join me with this Tik Tok video.
Sometimes God lays a message on my heart so strongly I know I'm supposed to write about it. That's what happened with this article. Frankly, it's not always an easy ask as I have an uncomfortable relationship with my religion that makes it a little daunting to speak about publicly, and as I really hate being vulnerable (8 on the Enneagram here). But, what scares me more than those things is not being vocal about my faith when it could help others, so I chose to write this deeply personal piece as my FIRST article for my new website. You can read it here.
I joined my Twitter friend (and now friend in real life), Sara Higdon for my first in-person, in-Atlanta interview last week to talk about the minimum wage, Modern Monetary Theory, and a lot in between. Check it out above!
From others…
Lockdown policies just might have been the biggest wealth transfer from the working class to the elites in my lifetime. And all the progressives, and unions, and groups who claim to be for the people were silent. Read the data here.
It is important that we celebrate Juneteenth. It's also important that we correct the narrative around capitalism & slavery. For the record, capitalism directly led to abolition, not the other way around. Good history lesson here.
Why the Pledge of Allegiance Is Un-American (an oldie, but a goodie).
Yes, he really said it.
FEE meme gold
Where was this Jon Stewart for the past year? We need liberals like this back on TV:
ENTERTAINMENT
In the Heights
I took my first trip to New York City in 2008. It was a big trip, one I'd dreamed of for years. My college boyfriend had a modeling contract with Ford and was spending the summer months in Brooklyn. And my best friend from high school, who I'd co-starred in many musicals with, won an MTV reality show and got to play the lead role in "Legally Blonde: The Musical." Exciting times for a little girl from Alabama.
So, I got the darkest spray tan money could buy, purchased a bunch of Old Navy sundresses, and boarded my first flight alone (without a gate-handler) to take on the Big Apple.
Despite being a broke college kid, I got to see a ton of musicals over those two weeks thanks to my friend being a freshly-minted Broadway star (they give them free tickets to other shows). But the two tickets we couldn't get? "In the Heights" and "Spring Awakening" – both new, independent shows that were taking the theater world by storm that summer.
Later on, the author and star of "In the Heights," Lin Manuel-Miranda, would go on to write and star in the blockbuster smash "Hamilton"….which I won't admit to how many times I've cried through.
So, as you can imagine, I've been counting down the days for his first musical's movie theater release. And now it's here! You can watch it in theaters or on HBO Max (which I get for free through my AT&T cell phone plan).
The heights refers to Washington Heights, an upper Manhattan neighborhood inhabited by many immigrants and people of color. It's a working class section of the city with a rich culture, strong community, and storied history, which the author does a tremendous job of paying tribute to in this play.
Any fans of "Hamilton" will enjoy observing the author's early songwriting in this show, which one can easily see fed into his latter production.
I love the trend of bringing musicals to the big screen. Theater should be for everyone. And as the Broadway lights dimmed for the past year plus, it's never been more clear that we need to immoralize these timeless performances and stories.
Broadway for the people!
BEAUTY
I got to see my sister this weekend, and she is always a wealth of beauty information because she is, well, the most beautiful human to have ever lived. I have become a bit neurotic recently about wrinkle lines on my neck. Ginny, my sister, says I'm actually insane and the neck lines are normal. But, as you know, I spend a lot of money on botox for my face and I feel my neck lines give me away. They're literally all I see in pictures these days.
My sister suggested the most recent Tik Tok beauty trend called Frownies. If you don't know, Tik Tok tends to create monster product trends that everyone rushes to buy…usually because they're actually really good products. The wrinkle patches have rave reviews and an endless amount of users posting their before and after pictures. So I obviously bought some. I'll let you know how it goes, but I'm really hoping they work because botox in your neck would be expensive and painful…as is the therapy I probably need to get over this neurosis.
LIFE STYLE
I went into the FEE office compound for the first time last week and would you just look who greets me when I walk in?!
How many people get greeted by their dead man crush when they walk into their office? Literally, probably just me.
One fun office tradition? On Tuesdays we have "Cocktails with Sam," one of our outstanding development team members. Turns out, Sam really knows his way around a cocktail…so I'll probably be making it a point to go in on Tuesdays from now on.
This week it was margaritas, and turns out, I'd never had a good margarita before. Seriously. I thought I hated them. They're always so sugary, and sticky, and gross. Not Sam's though.
Don't worry, I got his recipe for you. You have to try these.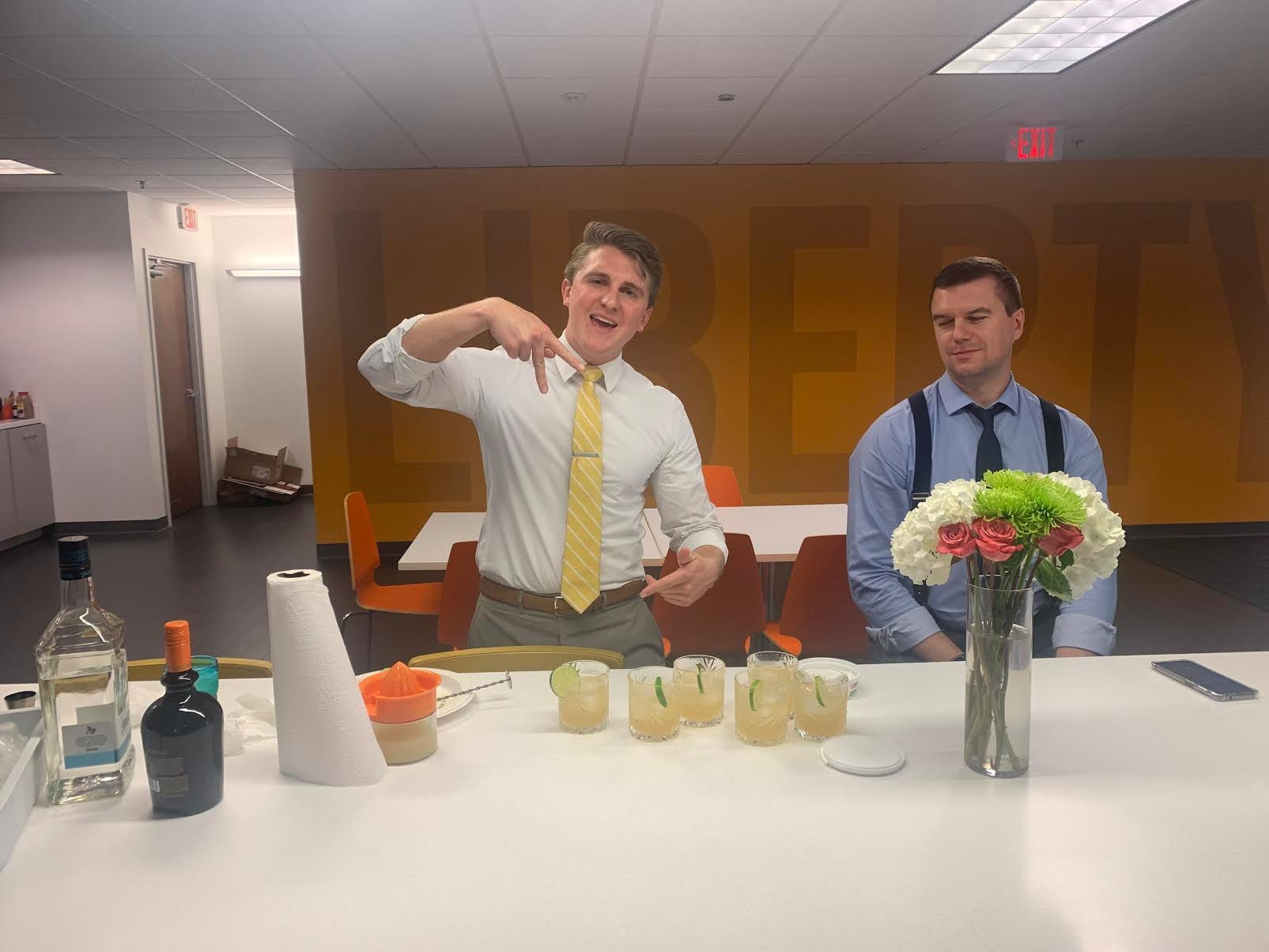 2 parts tequila (*must* be a 100% agave brand, everything else is trash)
We were using this brand.
1 part brandy based orange liqueur (Gran Gala or Grand Marnier)
3/4 part FRESH squeezed lime juice
These were seriously amazing. Super refreshing and, best of all, really low carb.
Sneak peak behind the scenes of new FEE pics.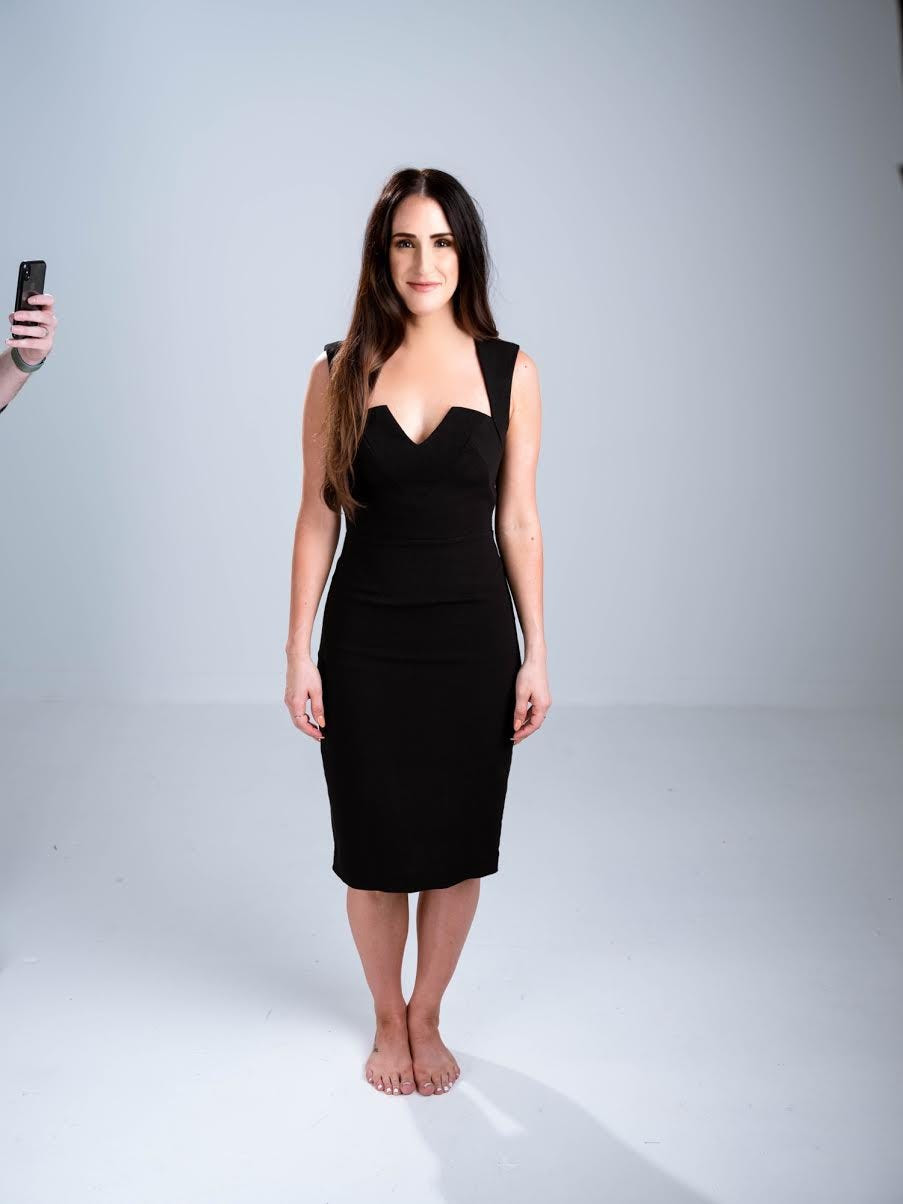 Hopefully we'll have the edited versions soon!
I had a little health hiccup this week. I noticed a very dark new freckle a few months ago and went to see the dermatologist about it. She agreed it had to go, and thus began my first biopsy.
I am a really healthy person, so little health events usually freak me out. But I've been taking this one in stride. It thankfully didn't come back as cancerous, but it did come back as severely abnormal (still not sure what that really means, I should probably ask more questions), so I had to go back in and have even more skin cut out.
This time they said it would leave a scar, and they let me pick between a linear scar or a small white hole. I went with the hole. I'll spare you any gruesome pictures, but let it just be noted I'm pretty annoyed to have an ab scar just as yoga was really getting my upper abs to a place I was proud of.
I've been enjoying my little greenway SO much lately. I just think God is so good to have put this right in my backyard. Nature is very therapeutic for me, and the ability to go run a few miles on this beautiful little roadway when I get stressed or overwhelmed is such a blessing.
Good news. I didn't miss my calling as a painter.
Honestly, it could have gone worse. The color itself turned out great, my taping was linear, and I didn't spill anything or ruin any furniture. But, while my taping was linear, it was about a half inch off where it needed to be both beneath the crown moulding up top and above the crown moulding in the middle. The trim and bottom half of the wall also still need to be painted a common color of white.
I'm pretty under water with work, and this already took two days as it is. So, I think this concludes my painting journey and I will be hiring someone to finish the job. I would love to be frugal, but at this point it's a capacity issue…and kind of a sanity issue…and I think I need to tap out.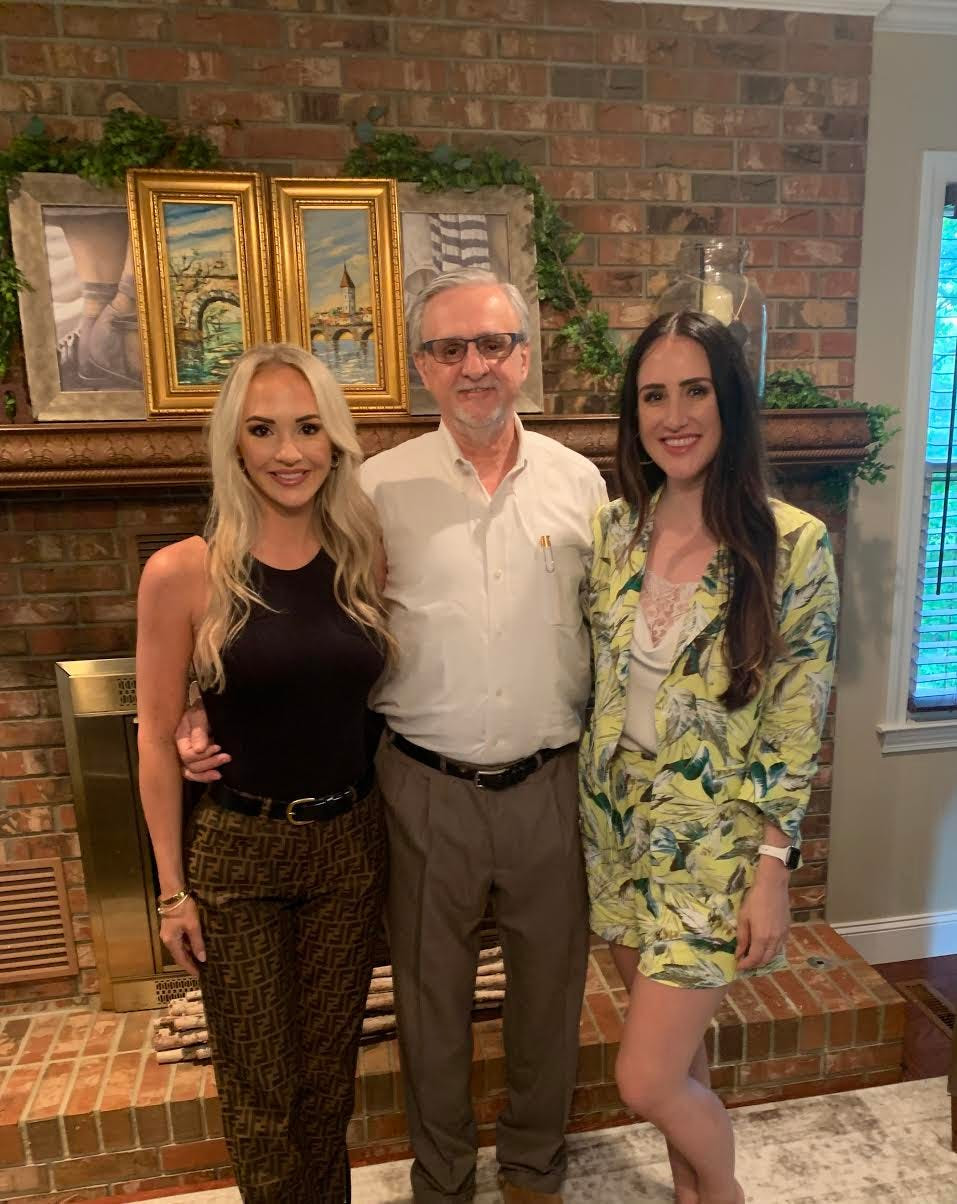 Picture with my Dad and little sister from Father's Day. We missed having my brothers and sister-in-law home for the holiday but they weren't able to get away this year.